HRH Infotech is ready to spread industry best practices to the world
Posted by on Friday, February 28th, 2014
HRH Group of Hotels, India's only chain of Heritage Palace-Hotels and Resorts under private ownership has diversified with its foray into Software and IT services to serve Hospitality, Leisure, Travel, Tourism & Education industries for their different needs of process automation and achieving greater agility in their businesses. Current applications available off the shelf are: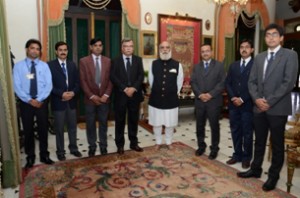 Hotel Management System
Central Reservations System
eCRM & Sales Force Automation
Materials Management System
Human Resources Information System
Museum Management System
School Management System
This venture is being mentored by Mr. Ajay K. Dhir, Chairman and Founder, Oranda Global, APAC (Asia Pacific) CXO Forum and MENA (Mid East and Africa) CXO Forum for Strategy, Branding, Talent, Processes etc. and to create reach and visibility for its Software products & services in India as well as Asia Pacific & MENA region.
For more info on HRH Infotech and its services on offer, please write to us on info@hrhinfotech.com