Posted by Team Eternal Mewar on Thursday, March 6th, 2014
With a vision to preserve and promote the cultural heritage of Mewar, the Maharana of Mewar Charitable Foundation (MMCF) initiated Rang, a traditional art and crafts workshop, in 2007. The workshop addresses the current need of globalisation of artisans by digitalisation and giving all artists, artisans and art forms an online platform for global opportunities and establishing their creative imprints not only during the 3-Day interactive workshop but throughout the year.
Rang is organised in association with Lokalart.com that empowers these artist and artisans by helping them to create their digital impressions and reaching global markets and overcoming the geographical boundaries.
This year Rang will be part of World Living Heritage Festival-2014, celebrating our living heritage in the traditional, rediscovered and adapted art and craft forms of Mewar. The artist line up is intended to bring into limelight the art forms like Terracotta, Thikri (Glass Mosaic), Miniature Painting, Marble Sculpting, Wooden Carving and Kavad. Let us introduce you to the men behind some of the greatest artworks of Rajasthan.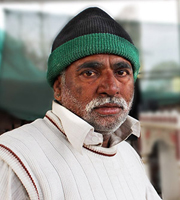 Ambalal Bhat
Marble Sculpting
Born in Udaipur, Ambalal belongs to a family of wooden artisans also known as 'murtikaars' or the God idol makers. The determination to break through for a better living, he started making marble sculptures. After 25 successful years, 7 of his folks have followed suite. Ambalal's designs are exquisite with a perfect traditional plus contemporary appeal.
Contact Ambalal Bhat @ +91 98292 51714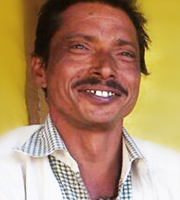 Ganga Ram Sahay
Terracotta
The term "terracotta" is a synonym for mud or baked earth and "pottery" stands for the art of making pottery wares on potter's wheel. Starting from the process of kneading the mud to shaping on wheel and finally firing in a kiln, the entire journey of a simple earthen soil to a beautiful artefact is mesmersing. Ask Ganga Ram.
A native of Alwar, Rajasthan, Gangaram's perfection on the potter's wheel is amazing and his expertise in pottery can convert a simple earthen soil into beautiful artefacts. He loves to teach this art form to children and organises workshops of terracotta in various regions of Rajasthan.
Contact Ganga Ram Sahay @ +91 98293 71383
Deepak Soni
Miniature Painting
Deepak Soni is a native of Bigodh, Bhilwara. He began painting at a very young age and is skilfully painting for over 14 years now. He specialises in miniature painting style and his Mughal and Kota style elephants in "Partaj" (a stipple technique for fine shading) are mesmerising and distinctive.
Contact Deepak Soni @ +91 95871 30303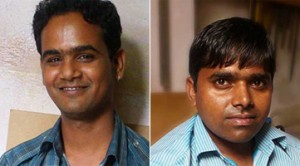 Vishnu Sikligar and Dalchand Salve
Wooden Carving
Vishnu and Dalchand are natives of Mavli, Rajasthan. They started the wooden work at an early age and have mastered the skill of carving over the years. They use Sagwaan (Teak wood) for making beautiful sculptures and have the skill to convert a simple wooden log into beautiful sculpture. Their sculptures are either painted or mounted with silver foil sheet; but the raw sculptures indeed have a distinctive flamboyance.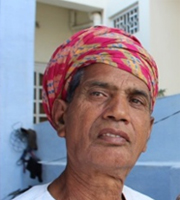 Mangilal Mistry
Kavad
The Kavad belongs to the ingenious story telling tradition of Mewar. It comprises a wooden cabinet with a number of brightly painted door panels illustrating stories of folk deities and episodes from the great Indian epics.
Mangilal is a native of Bassi, Rajasthan and has inherited the wood craft from his forefathers. He has been working on this art form for almost 45 years and can portray any story on Kavad. Besides Kavad he also produces toys, masks, deity images and 'kathputlis' (puppets). According to Mangilal Mistry, Kavad has helped people to tell stories from generations to generations and is one of the oldest interactive stories telling tool.
Contact Mangilal Mistry @ +91 94134 02175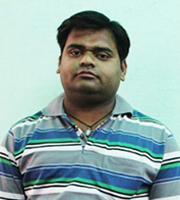 Krishna Kant Sharma
Thikri (Glass Mosaic)
The art of inlaying hand cut pieces of mirrors using diamond scalpels into perfect shapes and arranged into frescos on the ceiling and the walls to form a mosaic is known as thikri or mirror inlay or glass mosaic.
Krishna Kant is a native of Udaipur, Rajasthan and has honed his skills in this craft that was passed on to him by his forefathers. His father, Sohan Lal Sharma, being a veteran in thikri work has been practicing this art since last 40 years. He has also received an award for the exceptional work done in Devigarh Palace Hotel, Udaipur.
Contact Krishna Kant Sharma @ +91 99827 87090
Prakash Makwana
Nail Art
A native of Gujarat, Prakash has skillfully mastered the Nail art and makes beautiful patterns on a paper with thumb nail, colouring the embossed design. The embossed patterns on monetary coins inspired Prakash for making sketches on paper in his childhood. His skill in creating beautiful patterns on empty paper with his nails is enthralling.