Music shall wet the air again as Mewar pays homage this Guru Poornima
Posted by on Tuesday, July 2nd, 2013
Swaranjali 2013 is round the corner. Hindu mythology earmarks 'Ashad Shukla', the day of the full moon in the rainy season, as the auspicious day dedicated to The Teacher or Guru. 22nd July 2013 will see Mewar paying a musical tribute to Parmeshwaraji, an incarnation of Lord Shiva, at Shri Eklingji Temple. The temple is located in Kailashpuri, 21 K.M. s away from Udaipur.
What better way than an all-day long musical tribute to celebrate the custodianship of Mewar and the fellowship of Parmeshwaraji. The ceremony will commence with some of the world renowned classical music and vocal artists. The highlights of this ceremony will include: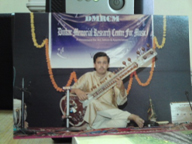 Dr. Ashish S. Shastri, Ph.D in Music on the Sitar
Son of Shri Sharadbhai Shastri. popular Sitarist from Gujarat, India, Dr. Ashish picked up the sitar from the age of 10. Trained under Pt. Ravi Shankar and constantly risen in the field of music since then, he now has the 'Gujarat Gaurav Puraskar' (2007-08), a gold medal in 'Sangit Alankar' (M.A in music) and Ph.D examination, severalmemorable performances across the country and innumerable acknowledgements with the one from All India Radio & Television being primary.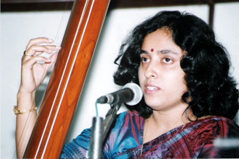 Dr. Soma Joshi, Indian Vocalist
A gifted vocalist with a deep sense of aesthetical expression, Dr. Soma is an idol of grace and perfection. Spreading magic of her voice, Soma was initiated to music by Shri Dhiren Sen at Jamshedpur and later trained by Smt. Uma Guha. Later, she became a disciple of renowned Pandit Candrakant Apte, an exponent of Gwalior Gharana.
Today Soma cannot even count the achievements and acknowledgements earned enroute. M.A., M.Phil. and then a Ph.D. from the University of Delhi were earned while she also won a national scholarship from the Indian Government. A regualr artist with All India Radio, her CDs, titled 'Aarti', 'Praatah Sumiran' and 'Gayatri Sahastranam', produced by 'Isha Music' company, have been released by 'Music Today' company.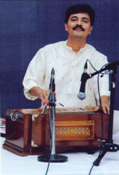 Sudhir S. Yardi on the Harmonium
Post-graduated as an engineer and now a teacher at an engineering college, Sudhir has always been equally connected with the world of music. Having chosen the Harmonium as his medium to connect with God from the tender age of 8, he has trained and excelled at it ever since. His musical journey has witnessed innumerable awards and several prestigious musical programmes across the country during which he has also accompanied the who's who of the world of music. To name a few, Pt.Jasrajji, Sau.Kalpana Zokarkar, Ustad Rashid Khan. Today, Sudhir Yardi is one of the very few artists performing Harmonium Solo.

Ms. Vaishali Bakore
She started training under the tutelage of Shri Madhavrao Joshi and Smt Minakshi Gogte, Later became a disciple of Smt Kalpana Zokarkar of Indore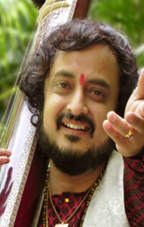 Shri Kaivaly Kumar Gurav
Pt. Kaivalya Kumar Gurav is the illustrious inheritor of a unique legacy of classical music. It was granted by the legendary Ustad Abdul Karim Khan Saheb to Pandit Ji's Grandfather, Pt. Ganpatrao Gurav and then handed down to his father Pt Sangmeshwar Gurav.
Pt. Kaivalya Kumar Gurav has nurtured it with his extraordinary musical powers and enhanced it with his deep study of the Omkar and the distinct style of music that he has developed. He has been the youngest artist ever to be designated as All India Radio's Top grade artist at the age of 35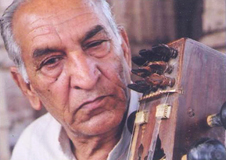 Shri Patti Khan
AIR A grade Local artist. Initially trained by father Mohd. Khan Sidva and later became disciple of Ustad Munir Khan
Ashad Shukla, Dr. Ashish S. Shastri, Dr. Soma Joshi, eternal mewar, music, Parmeshwaraji, Shri Eklingji Temple, Sudhir S. Yardi, Swaranjali, Udaipur