Maharana Kumbha
Ruling Period: 1433 – 1468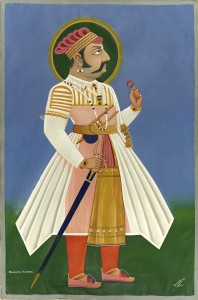 Acc. No.: 2012.27.0007
Standing in front of the fort of Kumbhalgarh, one cannot resist the awe this glorious fort manifests in it. Sometimes it is difficult to imagine how structures like such were conceived, perceived or built. At a height of 1,100 metres above sea level, this magnanimous structure is a saga of glory, gallant and grandeur. Built by Maharana Kumbha, this fort of Kumbhalgarh remained uncaptured till the end; and is a literal depiction of the Rana himself.
Maharana Kumbha or Kumbhakarna Singh was the eldest son of Maharana Mokal of Mewar and his wife Sobhagya Devi. He ascended the throne after his father was assassinated. He ruled Mewar for thirty five years; the historians often called the era 'the golden period of Mewar'. This heroic ruler of Mewar is remembered and idolised by people for varied reasons. While history remembers him as the powerful man who never lost any battle, the Rajputs consider him as the only Hindu king of the time when the rest of India was under muslim dynasties.
Mewar was the only Hindu-ruled major state allocating its supremacy to Lord Shiva. The powerful Muslim principalities united and aimed to defeat Rana Kumbha but their efforts were thwarted every time by the Rana, single handed. He captured the muslim capital of Rajasthan; Nagaur and established himself as 'The undefeated'.
The Art lovers remember the ruler as a great poet and musician. He was a great scholar and patron of music and wrote extensively on music. He devoted himself to learning and uplifting Indian classical music to preserve the ancient traditions of classical music.
And lastly, the remaining recall him as one of the greatest builders of Mewar, who built across Mewar, nearly thirty two fortresses including the fort of Kumbhalgarh, renowned temple of Ranakpur and the famous Victory Tower or the Vijay Stambha in Chittor to commemorate his victory over the combined armies of Malwa and Gujarat. Maharana Kumbha was killed while he was offering prayers to Lord Shiva.