Maharana Sajjan Singh
Ruling Period: 1874 – 1884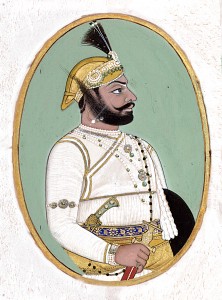 Acc. No.: 2012.19.0039_R_detail 20
While warrior kings of Mewar were busy creating legends for the bards and poets to recite through ages, a Suryavanshi king was busy doing both. A revolution was about to begin, and a hero was being created.
Maharaja Sajjan Singh brought back glory to the Sisodiya dynasty. He was a cousin of Shambhu Singh and succeeded him after his death. Being a minor, he was assisted in administration of Mewar. Like his ancestors, he served for the development of his people. He developed infrastructure such as roads, civil works, railway tracks and water supply; introduced Ijlas-e-Khas, court of appeal in judiciary for improving the civic amenities; took actions to check corruption and dismissed officials found guilty of bribery and manipulation of funds; improved and promoted education and medical resources; introduced various irrigation and afforestation projects and de-silted Lake Pichola post heavy floods, for the beautification of Udaipur. Udaipur became the second city to form municipality after Bombay under his rule. He renovated various important buildings but his most ambitious project was building Sajjan Garh Palace or the Monsoon Palace, acting as a backdrop for the serene and mesmerising city of lakes. On the other hand, Maharana Sajjan Singh possessed an artistic flair in him. His remarkable knowledge in poetry and music was profound. He wrote various dohas, poems and sawaiyas and composed in thumri, folk music, khayal and gazal style. His daily journal has been converted into a book 'Haqiqat Bahida'.
A man of brilliance, Maharana Sajjan Singh ruled for mere ten years. As a visionary, he revived the glory and pride of the Sisodiyas and Mewar in the short span of time he served; his era considered to be a renaissance in itself. But his untimely demise was unfortunate for the growth of Mewar and thus the saga of Maharana Sajjan Singh came to an end; his legacy though, living forever.