Maharana Jagat Singh II
Ruling Period: 1734 – 1751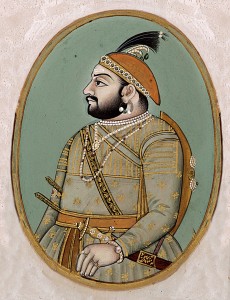 Acc. No.: 2012.19.0039_detail 10
With the rising sun along the Lake Pichola in Udaipur, the mesmerising Lake Palace, formerly known as Jag Niwas, designed under Maharana Jagat Singh II is strategically placed to face and worship the rising Sun; the Sun god from which the Sisodiya clan is said to have descended. With one of the most beautiful summer palaces under his time in power; Maharana Jagat Singh II of Sisodiya dynasty, was believed to be more involved in enjoying the worldly pleasures of life than governing his empire. His moderate approach towards his kingdom along with concurrent Maratha invasions eventually lead to Mewar's decline.
Maharana Jagat Singh II succeeded his father Sangram Singh II, reviving the triple alliance of Mewar, Marwar and Amber which was initiated by his grandfather Maharana Amar Singh II. With the declining Mughal Empire, the union of states was formed to gain independence and expand Rajasthan, making them quite powerful at the time. Maharana Jagat Singh II played a prominent role in the union of Rajput forces at Harda conference in July 1734 and was given the authority to head the alliance. But with the upsurge of independent ambitions amongst the Rajputana rulers, the alliance failed leading to the down slide of Rajputana.
Maharana Jagat Singh II, like his ancestors tried hard to revive the fallen Rajputana Empire but failed to do so. He is rather remembered as a great patron of Art and Architecture who enlarged his palaces and developed villages all around the Udaipur valley. Being the ruler who believed in festivities and pleasures, he conceived many festivals which are still celebrated in Udaipur till date.
Unlike his predecessors, Maharana Jagat Singh II may not have been able to hold onto his ancestral dream of freedom of Mewar; but his developments in regard to his structures and palaces stand tall in the history of Rajasthan to this date.